Transmission problems can take your car off the road for an extended period of time. While your car will typically not need transmission repair on a very frequent basis, neglecting transmission issues when the arise may eventually result in the total breakdown of your vehicle. When your car starts showing the signs and symptoms of transmission failure, a transmission specialist serving Rockville, MD , can fully repair the issue. A transmission mechanic will have access to special tools that your regular auto repair technician may not have in his shop. If your car is having transmission troubles, read on for some advice on choosing a reliable transmission mechanic.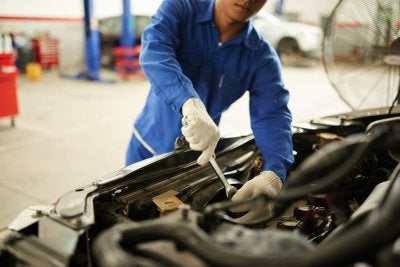 Consider Customer Service
Your experience with a transmission mechanic begins with your initial phone call to the shop. A reputable transmission mechanic will offer great customer service, and will be able to answer all of your questions in preparation for your service appointment. Along with relying on your own experience with a shop's customer service, you may also want to research whether the facility has received any awards or recognition for its great consumer and community services.
Ask About Policies
A reliable transmission mechanic will have a series of policies in place that will protect you against transmission problems in the future. When a transmission mechanic stands behind the quality of his work, he will offer a full warranty for all repairs. Before you book your transmission service appointment, you may want to ask about any warranty policies that will cover your services.
Research Certifications and Accreditations
One of the best ways to find a reliable transmission mechanic is to find a shop that has been certified by nationally recognized organizations. The National Institute for Automotive Service Excellence, for example, provides an extensive certification program for transmission repair facilities. Taking the time to become certified and accredited shows a transmission mechanic's dedication to excellent repairs. With these factors in mind, you can book your transmission repairs confidently.